About Moto Adventure Professionals
Moto Adventure Professionals LLC consists of seasoned employees dedicated to making your experience as seamless and extraordinary as possible. We strive to provide a worry-free excursion every step of the way. With MAP, you are free to explore at your own pace while feeling confident that you have all of the support you may want or need.
Please read below about our full-service team and our partners.

Arthur Tarian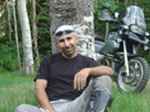 Our founder, Arthur Tarian, wants to provide an adventure expedition that will allow other motorcycle enthusiasts the opportunity to see parts of the world they might not experience on their own. Building on his 30 years of riding experience exploring different countries and 10 years of off-road racing experience, Arthur has created a touring company that allows you to interact with nature and immerse yourself with confidence in local culture.
Rolf Van de Venn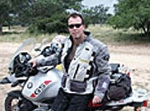 Rolf Van de Venn of "Great African Outdoors" will be guiding the Transcontinental Expedition through Europe and Africa. Rolf has been navigating the African continent for 20 years.
His many accomplishments include leading the first official motorbike travel group in Libya and Chad, as well as 50 guided tours in Africa. He has also completed 7 north-to-south crossings of Africa by motorbike.
Michael Barar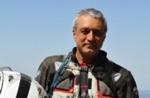 Michael Barar has been an avid motorcycle enthusiast and rider for over 35 years. From early teen years on dirt trails and back roads to long road trips, track racing and adventure riding. He currently rides a tricked out 2007 R1200GS Adventure and a 2006 F41000S MV Agusta when he feels the need for speed! Mike is excited to be part of the team and is looking forward to many future expeditions MAP has on the drawing board.
Mike Thomsen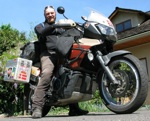 Danish tour manager Mike Thomsen is an experienced adventure bike rider and world traveler who has journeyed through sixty-nine countries of the world — most of them on motorcycle. He has extensively toured Europe, Australia, Africa, Asia, South America, Central America and North America. Mike now lives in Colombia where he owns the biker-friendly "Casa Blanca Hostel" in Cali, and he also runs "Motolombia", a small motorcycle adventure tour and rental enterprise.
Doc Sam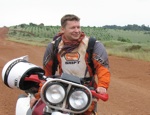 Doc Sam is an experienced adventure motorcyclist and a professional surgeon from Russia, formerly serving as a physician for a major-league hockey team. He is proficient in the martial arts and holds a black belt in Aikido. Doc Sam has traveled extensively all over Indochina by enduro motorcycle, and he is an excellent guide and entertainer who is especially knowledgeable about Cambodia. Doc Sam currently lives in Cambodia where he owns and operates the "Fire in the Jungle" motorcycle touring company.
Peru Motors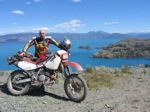 Peru Motors is a flexible travel organization, under Dutch management, specialized in guided motorcycle tours in South America, mainly in Peru, Chile, Bolivia and Argentina.
Owned in and operating from Peru (Arequipa) we organize our exclusive guided motorcycle tours against reasonable prices. Our multilingual tour-guides are very knowledgeable of the main routes an most visited places, but will also take you 'off the beaten track'
MIR Corporation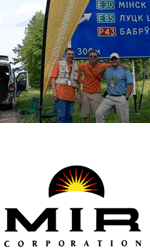 MIR Corporation—the Russia and central Asia specialist—has 22 years of experience focused on travel to St. Petersburg, Siberia, Mongolia, and the Silk Road and beyond. Specialists at the Seattle-based firm create efficient itineraries that take into consideration a client's interests and capabilities as well as sharing the inside knowledge that comes from years of touring experience.
With an extensive network of partners on the ground and offices in Moscow, St. Petersburg, Kiev, Siberia, and Uzbekistan, MIR has the expertise and experience that organizations appreciate when they are interested in unusual forms of travel in a less-frequented part of the world.
Odyssey Tours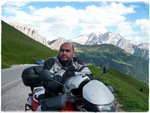 Our partnership with Odyssey Tours allows us to present to you the best of Greece — up close and personal on late-model BMWs. Odyssey Tours is a family-owned company founded in 2007 by Thanasis Paparnakis and Chrysa Ntantou. This company does a fantastic job of bringing the beauty, charm and passion of Greece to the motorcycle adverturist. Having catered to bikers and travelers from all over the world, Odyssey Tour's experienced tour guides are ready and willing to show you their country's best offerings.