Moto Adventure Professionals LLC Quest Club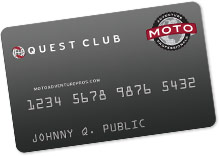 At MAP, we want to show our customers how much we appreciate their business. Quest Club is a free rewards program that allows our valued customers to earn discounts on future tours and expeditions. All MAP riders and co-riders are automatically enrolled in our Quest Club, and we will send a card to each Quest Club member at the end of their first trip.
Quest Club members accumulate points at a rate of one point per day for each tour or expedition they complete. For example, a ten-day tour would earn 10 Quest Club points. Quest Club members accumulating 30 points would qualify for a 5% discount on a future tour or expedition, 60 points would qualify for an 8% discount, and 100 points will qualify for a 10% lifetime discount on all future tours or expeditions.
There is no charge or obligation to become a Quest Club member. It is simply our way of saying thank you to our valued customers